The Parish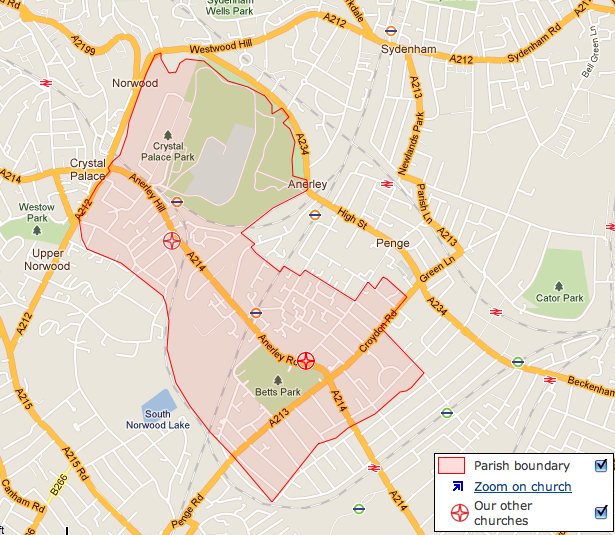 Several years ago Anerley contained two parishes, Christ Church Anerley, and St Paul's Anerley. The two churches have had a number of similarities – both are Bible based and desire to reach out to the local community in evangelism, service and Christian witness.
After a lengthy process, and a great deal of prayer along with specific prophetic words of encouragement, the two parishes were united in May 2009 to form Anerley Team Ministry with two church buildings and two members of clergy (Rector and Vicar). The uniting of the two parishes has been done in order to best serve the community along with a strong belief that God wants us to work as a team.
The decision was made to join very closely – for example, it has been agreed that there is a single set of shared funds. Anerley contains the former site of the 'Crystal Palace', which is now the Crystal Palace Park. This contains the National Sports Centre which was used as an Olympic Training venue.
Christ Church is a bible-based church open to God (working through His Spirit) and seeking to make disciples for Jesus.
Christ Church has around 180 adults and children, of different ages and backgrounds, meeting in a modern church building (1990) which is in very good condition and includes a more recent basement extension known as The Hive.
We see ourselves as a group of people rather than a building. We are a random bunch – lots of families – and adults from mid 30's on! We are lively, charismatic, friendly and informal. It is quite normal for people to put on a pot of coffee first thing on a Sunday morning and have a cup or two before we get going.
Christ Church is serious about Jesus and coming together to worship and encourage one another and serious about reaching out to our community. But we also like to have fun and there is a lot of laughter in our Church. The Christ Church Mission Statement says:
We seek to live and grow as a community of God's people to his glory.

We aim to serve others, particularly in Anerley.

We seek to collaborate and share our talents and resources with other churches
We have been and remain committed to 'Shared Leadership' and 'Every Member Ministry'. We enjoy a broad spectrum of people who are able to lead services, worship and preach. We are a church that is committed to allowing freedom for individuals to 'try out' new skills and giftings. This approach has also included the children, youth and young adults and enabled them to feel part of, and valued by, the rest of the congregation.
We are blessed with a large, talented worship team who are committed to lead worship sensitively and prayerfully. Our worship style is contemporary with a wide range of instruments, from keyboard, guitar, drums through to banjo, mouth organ and various brass and string instruments. We are open to the Holy Spirit during worship times which will often lead into times of open prayer, words of knowledge and the prophetic. We seek to encourage and grow the gifts of the Spirit.
We have a large 'Welcome Team' who greet people on a Sunday morning. As a church we are committed to prayer, we have a Prayer Ministry team who provide prayer support immediately following the service.
A typical month will include an All Age service, Family Communion service and Morning worship services. We have a smaller evening congregation of approx 40 regulars which meet every week.
On a normal Sunday Christ Church has around 40 children spread over:
Crèche – for 0-3 year olds

Busy Bees – for reception – year 1

Chattering Cheetahs – for years 2 – 5

Seniors – for years 6 – 8
We also have a Saturday evening youth meeting for 13-18 year olds – incorporating games, worship, teaching, discussion, prayer and practice of spiritual gifts. The group has also run a series of topics on the Holy Spirit and the gifts of the Spirit/Self-Esteem/Evangelism. Young people have been gaining confidence to 'preach' and organize their own meetings occasionally and even to run Sunday morning services for the whole congregation at times.
Christ Church recognises the Jewish heritage of the church and celebrates some Jewish festivals, such as Succoth (Tabernacles), Chanukah and Passover, singing Messianic choruses, dancing, re-enacting ceremonies from biblical times and gaining insight into how these festivals can draw us closer to God.
Christ Church supports a number of local and overseas charities, tithing 10% of income. This includes a number of people who are directly supported (financially, through prayer, and in other ways).
St Paul's is bible based, and is openly evangelical. The focus of the Parish is more on Pastoral Care (both within and without the church) reflecting the immediate needs of the community. A visiting Vicar commented "St Paul's is a church for the bruised and the wounded, but aiming to bring them wholeness and strength through faith in Jesus, not to cosset or cocoon them."
The congregation is around 60 people, and there is a positive feeling of fellowship within St Paul's. The main Sunday service is at 10.30am and a variety of Morning Worship, Holy Communion, Family Services and Family Communion – mostly with Children's Sunday Club running alongside. St Paul's does not meet Sunday evenings.
St Paul's was dedicated in 1978. It has a lofty octagonal worship area.
Two halls connect in series from the worship area. The first is a small hall which can be opened up to make a larger worship space when needed. The larger hall is used for Sunday Club, Preschool, Toddlers, Youth Group and social occasions, etc.
The links which St Paul's has to preschool, holiday clubs and schools have led to children's events being extremely popular and effective within the community. St Paul's is a missionary-minded church, supporting missionaries in Thailand and Taiwan – both of which are former members of the church.